The House of C.G. Jung
The history and restoration of the residence of Emma and Carl Gustav Jung-Rauschenbach
Présentation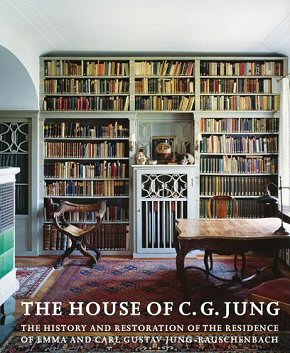 La maison édifiée par Emma et Carl Gustav Jung sur les bords du lac de Zürich en 1909 fait l'objet d'un très bel ouvrage, disponible uniquement en langue allemande et anglaise. Il est édité par la Fondation C.G. Jung Küsnacht.
Près de 160 photos et plans permettent de suivre les différentes étapes : les plans initiaux, la construction, les différents travaux d'adaptation et de rénovation, dont les plus récents datent des années 2000.
4eme de couverture
C. G. Jung, the important explorer of the human psyche and founder of Analytical Psychology, lived and worked in his home in Küsnacht on Lake Zürich from 1908 to 1961, along with his wife, Emma Jung-Rauschenbach, whose wisdom was the heart of the house where they raised their five children.

A hundred years after it was built and following the completion of renovation, this house is represented in this lavishly illustrated record, published to document the creation of the property on Lake Zurich and its transformation since then. The House of C. G. Jung captures its previous and present states in text and images.

This volume is an architectural portrait of a truly unique home, as well as a commemoration of its original builders and owners.
Chapitres
Foreword by Irene Gerber
"The House on Seestrasse" by Andreas Jung
"Homes in the Lives of Carl Gustav Jung and Emma Jung-Rauschenbach" by Andreas Jung
"On the Banks of Lake Zurich: The Site and Its Prehistory" by Regula Michel
"The Realization of Jung's Architectural Ideas: The Origins of the House and Garden" by Regula Michel
"Between Palatial Villa and Home on Lake Zurich: The House of Carl Gustav Jung as an Architectural Landmark" by Regula Michel
"Living in a Museum? The Renovation of the House and Outbuildings, 2005–2007" by Arthur Rüegg
"C. G. Jung's Garden Realm: The Garden and Its Renovation, 2007–2008" by Judith Rohrer and Daniel Ganz
Éditions Stiftung C.G. Jung Küsnacht - 148 pages - 23 cm x 29 cm